Thrust Caps - Strength & Muscle Density
SKU:
$66.25
$66.25
Unavailable
MAGNUM THRUST® IS YOUR BEST CHOICE FOR A TESTOSTERONE BOOSTER THAT SUPPORTS A HEALTHY ESTROGEN BALANCE BECAUSE:

It is 100% Pharmaceutical Grade for better, faster results.
It is 100% natural and will support your body's ability to produce testosterone.
It has been tested in the gym and in the lab over the last 7 years
It works on multiple pathways to completely optimize your body's ability to produce testosterone*
It is the only testosterone booster to include 4 testosterone supports that help support protein synthesis*
A key ingredient in this group of ingredients is Beta Ecdysterone. Studies conducted in the Soviet Union suggest Beta Ecdysterone helps "increase hepatic protein synthesis and subsequently promote positive nitrogen balance."*
V. Smetanin, researcher of the Smolensk State Medical Institute in Russia speculates that Beta Ecdysterone achieves this by decreasing urea concentration in the body and increases hemoglobin levels by increasing a process called erythropoiesis. Erythropoiesis is the development of mature red blood cells. This leads to a stimulation of the anabolic process in protein metabolism, which in turn leads to a positive nitrogen balance in the body. A positive nitrogen balance, or more nitrogen, equals more muscular gains.
THRUST'S MULTI-PATHWAY APPROACH OPTIMIZES YOUR ABILITY TO PRODUCE AND UTILIZE TESTOSTERONE THROUGH THESE 5 HIGHLY EFFECTIVE MECHANISMS:
1. Testosterone Mimicking through NON-Hormonal Pathways -Beta Ecdysterone/20-hydroxyecdysone, 5-Methyl-7-Hydroxy-Isoflavone Ethylcarbonate Ester, Ipriflavone (7-Isopropoxyisoflavone) and Safed Musli all mimic either testosterone's ability to increase the rate of protein synthesis or its structure (in the case of Safed Musli) and can latch onto the same body receptors that testosterone attaches to, supporting similar positive results.* Published scientific studies suggest these ingredients will increase the rate of ribosomal activity, which are cellular proteins that actually hook amino acids together to form new proteins.* This enables the muscle cell to "work faster" to put amino acids together into protein chains. Scientists call this process protein synthesis. Without an increase in protein synthesis, your muscles won't grow at all. Beyond just increasing protein synthesis, these ingredients will also help support cortisol balance, improve overall recovery from exercise and cause a nutrient partitioning effect - transporting much-needed nutrients away from fatty tissue and toward muscle cells for use in muscle growth and repair.*
In a scientific study published in Scientific Sports Bulletin by S. Simakin, Beta Ecdysterone was tested to determine the effect on muscle tissue mass and fat mass, while also testing for hormonal changes in the subjects.*
Beta Ecdysterone supplementation supports lean muscle tissue while promoting fat loss*
For the study, three control factors were used: a placebo, protein, and Ecdysterone with protein. The results were significantly in favor of the third factor. Of the 78 highly trained male and female athletes who used the placebo, they lost a slight amount of lean muscle (-2 to -3%). Those who consumed just protein showed only a slight increase in muscle mass (0.5 to 1%). But those who used protein plus Ecdysterone showed a 6 - 7% increase in lean muscle tissue with nearly a 10% reduction in fat!* Safety testing was conducted during the same time period, which showed no difference in hormonal balance.*
These findings are incredible as the human body can naturally only support testosterone so much, but with the addition of the Beta Ecdysterone in Thrust®, you are able to get even greater results, especially when combined with a slightly increased protein intake.*
2. Testosterone Amplification Via Multiple Pathways such as LH, cAMP, and Cholesterol Conversion - Scientists have studied the effects of one of the key ingredients in Thrust®, M-OXO, for over 15 years and have found an abundance of benefits, including body fat reduction, lean body mass enhancement and support for healthy sleep patterns.* This occurs primarily through elevation of 3,5 cyclic adenosine monophosphate (cAMP) - a second messenger important in hormone signaling. cAMP elevation is a crucial piece of the puzzle in creating an anabolic and thermogenic state, and M-OXO is one of the best compounds available for triggering dramatic increases in cAMP levels.* Increased cAMP production is a signal for steroidogenesis (testosterone production) in the Leydig cells of the testes, by increasing levels of steroidogenic acute regulatory protein (StAR). Increased StAR production is necessary for the stimulation of steroidogenic enzymes involved in the transfer of cholesterol to testosterone.*
Another key ingredient in Thrust® that amplifies your body's own natural production of testosterone is dodder seed extract (or cuscuta chineses).* Dodder seed extract also activates the second messenger system and subsequently allows greater amounts of cAMP to be generated from ATP.
In a 2000 study by Qin in the Asian Journal of Andrology, dodder seed extract supported blood levels of testosterone and luteinizing hormone and promoted the health of the testes, epididymis and the pituitary gland, which suggests an anabolic effect.*
Tongkat Ali Root Extract 20:1 (Eurycoma) found in Thrust® has also been studied extensively with many suggesting it helps support sexual health.*
A study posted in the British Journal of Sports Medicine found that the lean body mass of the treatment group using Tongkat Ali Root Extract 20:1 showed an increase of lean bodyweight of 5% from 52kg to 54.6kg.
Tongkat Ali supplementation supports lean bodyweight and strength in weight training* subjects
A placebo-controlled human study with 14 healthy young men in a weight-training program published in the peer-reviewed British Journal of Sports Medicine found that the lean body mass of the treatment group showed an increase of 5% from 52kg to 54.6kg.* Furthermore, the increase in strength in the supplement group was larger than in the placebo group by 144% (6.78% and 2.77% respectively). The mean arm circumference of the treatment group increased significantly by 1.8 cm after the supplementation, but there was no significant increase in the placebo group.*
Tongkat Ali Root Extract (Eurycoma longifolia), contains quassinoids such as eurycomalacton, eurycomanon, and eurycomanol and the standardization and quality of these quassinoids seem to be the key to increased testosterone and muscular gains. Magnum Thrust® utilizes only Pharmaceutical Grade ingredients ensuring the highest quality of quassinoids. The results suggest that the extract of Tongkat Ali (Eurycoma longifolia) increased fat free mass, increased muscle strength and size, and thus has an ergogenic effect. Source: Abstract is taken from the website of British Journal of Sports Medicine. 2003;37:5 464-470 doi:10.1136/bjsm.37.5.464
3. Prevention Of Sex Hormone Binding Globulin – A large proportion of the testosterone that circulates in your body is bound by a protein call SHBG (sex hormone binding globulin). Testosterone that is bound to SHBG is considered ineffective. Only free testosterone exerts the effects that are attributed to the hormone. Thrust's active ingredients capture and bind SHBG and therefore prevent SHBG from capturing circulating free testosterone.*
A study performed at the University of Bayreuth, Germany showed that an extract of Stinging Nettle had a very high binding affinity to SHBG.
Lignans from the roots of Stinging Nettle and their metabolites bind to human sex hormone binding globulin (SHBG).*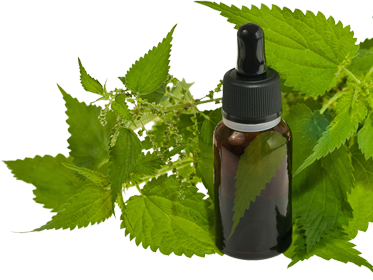 An extract of Stinging Nettle (Urtica dioica L.) containing the ligans (+)-neoolivil, (-)-secoisolariciresinol, dehydrodiconiferyl alcohol, isolariciresinol, pinoresinol, and 3,4-divanillyltetrahydrofuran was tested to measure their affinity to human sex hormone binding globulin (SHBG). All lignans except (-)-pinoresinol developed a binding affinity to SHBG in the in vitro assay. The affinity of -3,4-divanillyltetrahydrofuran was outstandingly high. Thrust's Pharmaceutical Grade Stinging Nettle Extract 4:1 is particularly high in (-)-3,4-divanillyltetrahydrofuran.
The inclusion of a Pharmaceutical Grade Stinging Nettle Extract standardized for a high level of (-)-3,4-divanillyltetrahydrofuran is a majorly important component of any effective natural testosterone booster. Without this ingredient and testosterone may be greatly nullified by SHBG and rendered useless by the human body.*
4. Muscle Cell Androgen Receptor Creation – Studies suggest that supplementing with Acetyl-L-Carnitine leads to a significant increase in the androgen-receptor content on muscle tissue. This result is more protein synthesis, which literally means more muscle. Furthermore, the temporarily low level of free testosterone in the blood stream (since more testosterone was now received into the new testosterone receptors found on the muscles) tells the brain (the pituitary-gonadal axis), through negative feedback, that it needs to start producing even more testosterone.*
Kraemer, William J. et al. Androgenic Responses to Resistance Exercise: Effects of Feeding and L-Carnitine. Med Sci Sports Exerc. Vol. 38, No. 7, pp. 1288-96.
A study by Volek and Kraemer suggests that using Acetyl-L-Carnitine will reduce recovery times post workout.
Carnitine supplementation favorably affects markers of recovery from exercise stress.*
Another acetyl-L-carnitine study by Volek and Kraemer showed that athletes who used the compound after a squat workout had increased recovery.* This is due probably not only to the effects mentioned in the previous study, but due to supporting healthy, exercise induced inflammation via an increase in blood flow, oxygen delivery, and regeneration of ATP, the energy substrate of the cell.*
Improvements in recovery as well significant increases in the androgen- receptor content on muscle tissue were found with supplementation of Acetyl-L-Carnitine proving this ingredient key in any natural testosterone boosting supplement.
5. Supports Estrogen Balance – support recovery with Thrust's remarkable aromatase and estrogen balance supporting qualities, which decrease the cytochrome P450arom isoforms.* This has very positive effects on the testosterone/estrogen ratio because it provides significant estrogen balance support.* By promoting the testosterone/ estrogen ratio, users may experience significant hardening effects on their physique and increased insulin sensitivity.* By limiting insulin response, blood glucose levels remain more stable, sugar is less likely to be stored as fat and excess insulin can blunt the effects of increased cAMP levels.*
A pilot study measured support for a healthy estrogen to testosterone balance when supplementing with nutritional aromatase inhibitors.
Nutritional aromatase inhibitors help balance estrogen levels in test subject*
A numerical example of the effects of an aromatase-balance supporting supplement can be seen on one of the subjects in a pilot study. After only 30 days on an aromatase-balance supporting supplement, estradiol and testosterone balance were both supported.* These results suggest men may support a healthy estrogen and free testosterone balance with the use of the ingredient present in Thrust®.*